The Eichbergerhof (English translation: Oak-Ridge-Farm), is an old farmhouse, which was first mentioned in 1319. Monks from Kaisheim Abbey founded it and used it as an agricultural base. After its destruction in the 30 Years War it was rebuilt in the second half of the 17th century. Its finest hour came in the War of Spanish Succession. In the year 1704 the building featured in the great Battle of Blenheim. On the morning of August 13th an Imperial German Army under the command of Prince Eugene of Savoy, which was allied with British and Dutch troops under the Duke of Marlborough, swarmed around the Eichbergerhof and marched in the direction of the village of Lutzingen to attack Bavarian and French forces under the command of the Bavarian Elector Max Emanuel.
(See plans on this website.)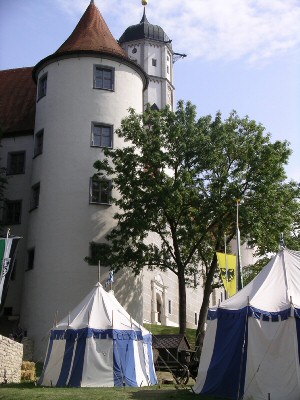 Hoechstaedt Castle
Britisch Grenadier 1704
1st Foot Guards, Blenheim Reenactment 2004
The Eichbergerhof became the temporary headquarters of Prince Eugene, the commander of the right wing of the allied army. From here he directed his troops, Danish and Prussian Infantry and Austrian Cavalry, southwards to Lutzingen. After three waves of attack the Bavarian and French had to retreat during the evening, when the Duke of Marlborough succeeded on the left wing in going across the Nebelbach (English translation: Fog-Stream) and breaking through the French lines between Simons Mill near Blenheim and the village of Unterglauheim. He had won a great victory for the Coalition against King Louis XIV. of France. The village of Lutzingen – like others – was burned and destroyed, but the Eichbergerhof survived without damage.
In the year 2004 – exactly 300 years after the battle – the Eichbergerhof was derelict. It was uninhabited and the roof had begun to collapse.
Concerned about this situation a group of seven people interested in history founded an association to save the old building: the "Foerderverein Eichbergerhof e. V." It is achieving its aim. Pictures on our website show the progress in the restoration process.
It would be a great pleasure for us, to welcome you to the Eichbergerhof. Take a visit to the battlefield, which looks very much the same today as it was in 1704. View the splendid historical exhibition about the battle of Blenheim in Hoechstaedt Castle – Schloss Höchstädt. If you want to visit the battlefield, we can offer you guidance in authentic uniform of a fully armed Bavarian or Prussian soldier of 1704. Write to: arnoldschromm@yahoo.de.
If you want to become member of our association, if you like to support it with money or other form of help, you are most welcome.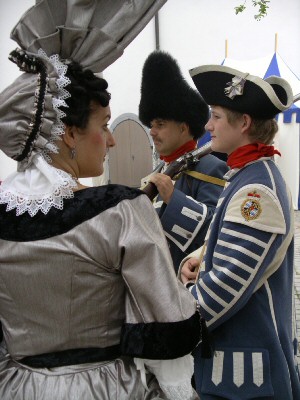 Bavarian court lady and soldiers 1704
members of the Eichbergerhof association